Tips for Driving a Truck in the Rain Safely
February 28th, 2023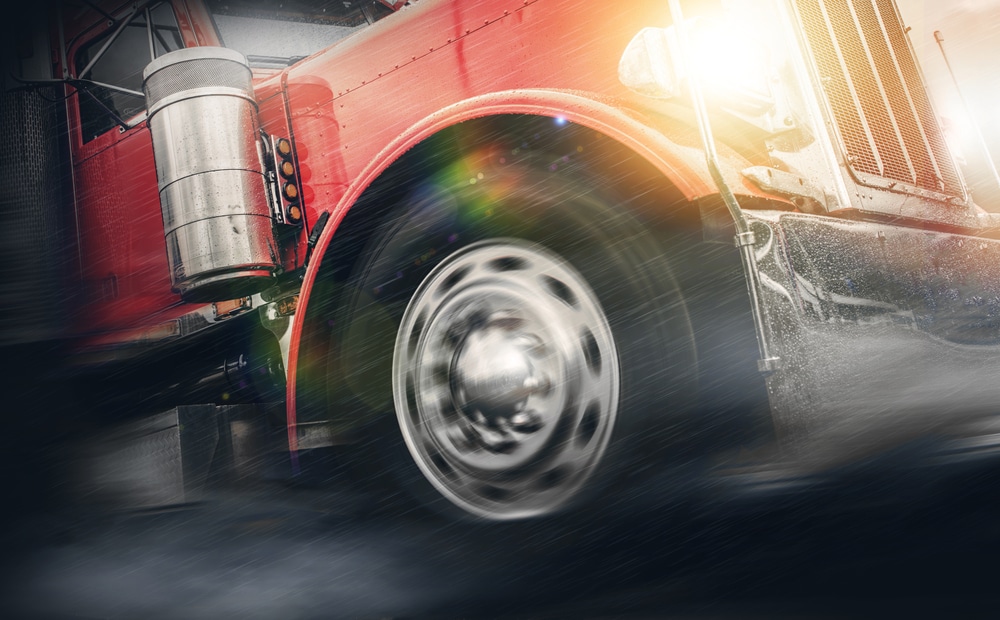 Weather is an important factor in determining whether you can deliver a shipment on time. While you can't control the weather, you can control your driving. Knowing how to drive a truck safely in the rain is crucial for ensuring you and your shipment arrive unharmed. Here are some tips for both rookie truck drivers and experienced professionals for driving safely in the rain.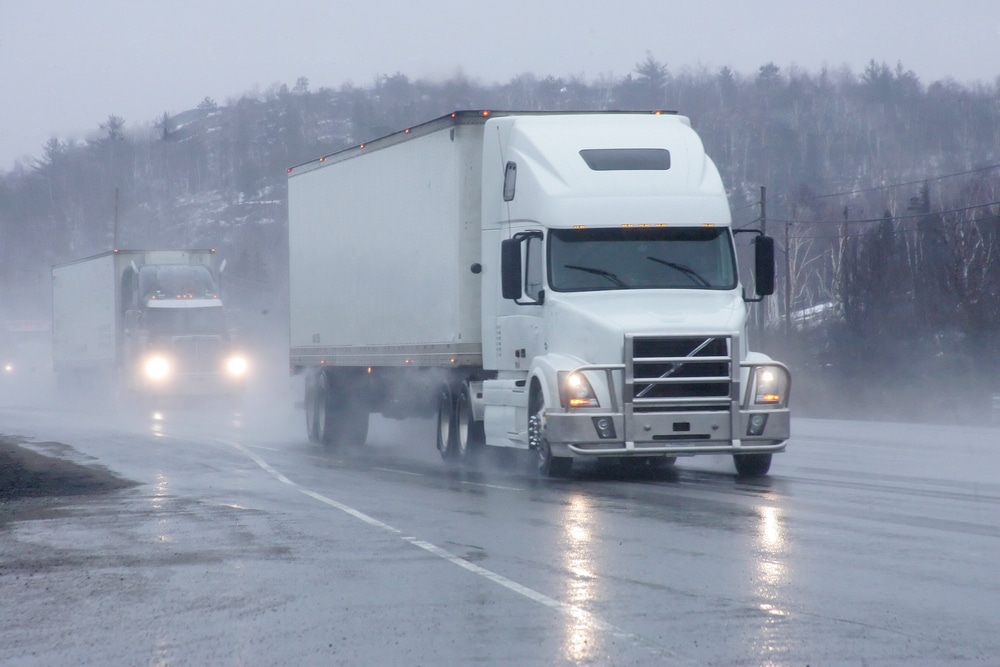 ---
Safe Driving in the Rain: The Difference Between Cars and Trucks
Cars and trucks operate very differently, and their differences affect how they drive in heavy rain.
Weight. Cars typically weigh around 4,000 pounds, while large commercial trucks average about 80,000 pounds. As you know, the added weight makes driving trucks more difficult in general because they are harder to slow down and stop. This is even more challenging in bad weather.
Rollovers. Semi-trucks are taller than regular vehicles, which makes them more likely to roll over during high winds.
Blind spots. There are several areas that a driver can't see while driving. All vehicles have blind spots, but commercial vehicles have significantly more. When vision is already impaired in these locations, heavy rain that further impairs vision can be hazardous for truck drivers.
Always Be Prepared for Bad Weather
Bad weather can hit any time, so it's better to be prepared before you find yourself stuck in a torrential downpour. Here are some tips for truck drivers to prepare for bad weather.
Check the Weather
Avoid stress and potential accidents by knowing the weather before you start driving. Prepare for weather conditions so you won't be surprised if bad weather hits. Listen to weather reports or check online to see what the weather will be like on your route.
Plan Your Route
After checking the weather, listen to the news or check maps to see if the rain has caused any flooding that resulted in road closures or detours. If you know the route, you can plan ahead. Changing routes at the beginning of a run is better than doing it in the middle when you are unprepared.
Keep Up With Maintenance
One of the most important tips for driving in the rain is ensuring your truck runs its best. You should conduct pre-trip inspections regardless of the weather conditions, especially because bad weather can come on without warning. When this happens, you want to ensure your truck is functioning optimally. Slick roads can be a disaster if your brakes are faulty or your tires are low.
Stock up on Emergency Supplies
Ensure your truck is always stocked with emergency supplies in case bad weather strikes. Include the following items in your emergency kit to prepare for a weather emergency.
Water
Dry food
Blankets or sleeping bags
Jackets/extra clothes
First aid kit
Flashlights and extra batteries
Jumper cables
Radio to contact others
Power bank for your cell phone
---
Safety Tips for Driving in the Rain
Once the rain hits, it's time to stay vigilant and safe. Here are some tips for driving a truck in the rain.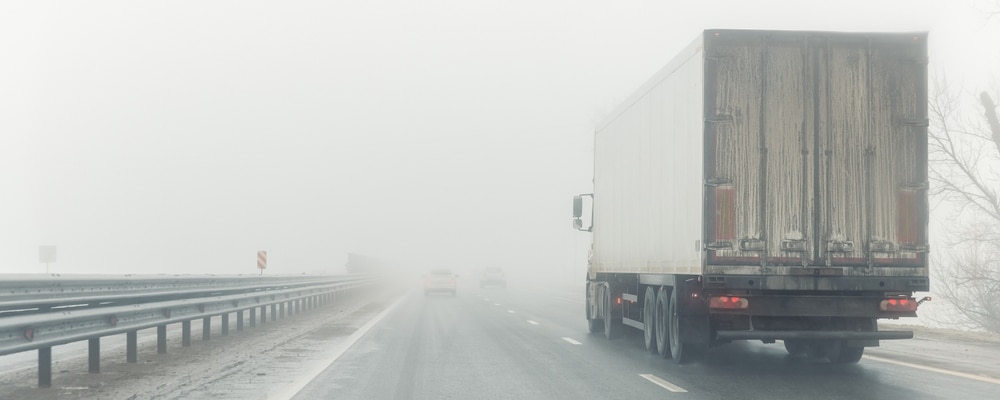 Drive Distraction-Free
Your full attention should always be on the road when driving, but this becomes even more important when driving in the rain. Before hitting the road, silence your phone and set up your navigation system. You can then put your phone out of reach so you're not tempted to check texts or other notifications while driving. Make sure your snacks and drinks are easily accessible, so you won't have to reach too far for them.
Turn Down the Radio
Your radio can be helpful while driving in bad weather because you can monitor weather updates without distractions. However, the volume shouldn't be too loud. Make sure you can still hear what's going on around you. Don't lose focus while listening to weather updates.
Buckle Up
You must wear your seatbelt no matter the weather, but it's crucial during heavy rain. Highway driving is dangerous no matter what, but adding slick conditions means you're more likely to encounter danger. Buckle up and stay safe!
Turn On Your Lights
Visibility is low during heavy rain, no matter the time of day. Turning your lights on not only ensures you can see other drivers but also ensures they can see you. Everyone is safer on the road when they can see each other.
No Cruise Control or Engine Brakes
When you use cruise control, you lose the feel of the road. This is dangerous in the rain because you may be unable to tell if your truck is hydroplaning. Using your engine brake on wet roads may also make you lose traction.
Give Yourself Time to Start and Stop
You need more time to accelerate and decelerate when you drive in the rain. If you come up on a sudden stop or curve, start slowing down earlier than usual.
Slow Down
Safe driving in the rain can mean driving under the speed limit. According to the FMCSA, nearly 25% of all speed-related semi-truck fatalities occur during bad weather conditions. Safety tips suggest slowing down by five mph during each of the following
Bad weather
A curve in the road
Light or empty trailer
Heavy traffic
This means you could be facing a 20 mph reduction in speed to keep control of your truck.
Keep Your Distance
Give yourself plenty of space between you and the vehicle in front of you. Trucks need significantly more time to stop than cars, and the heavier the vehicle, the longer it takes to come to a complete stop. In fair weather conditions, keep around seven seconds of following distance between you and the next vehicle, and more in the rain.
Be Aware of Other Drivers
You might be an excellent driver, but you can't guarantee that the other drivers are. Stay aware of what's going on around you. Drive defensively. Keep an eye out for drivers who are driving safely, or are distracted.
Avoid Ice
Sometimes rain can freeze and cause icy road conditions. If rain starts to freeze on the road, avoid driving, or at the very least, reduce your speed. We've seen the sign a million times, but keep in mind bridges freeze before roads.
Pull off the Road if Needed

There are times when the best tip for driving in the rain is to avoid it altogether. Road conditions can sometimes be too dangerous to risk it. It's okay to pull off the road when rainstorms become too severe. It's not worth the risk to keep driving when conditions are unsafe. If you pull off the road, avoid pulling onto the shoulder and find a safe parking lot instead.
Recent News and Articles