How to prepare for International Roadcheck 2022
Want to keep your trucks on the road? Avoid being placed out of service by preparing your fleet for International Roadcheck 2022
May 12th, 2022

Is your fleet prepared for International Roadcheck 2022?
The Commercial Vehicle Safety Alliance's (CVSA) International Roadcheck kicks off on Tuesday, May 17, 2022.
In this blog, we'll provide you with the insight you need to keep your fleet from being placed out of service this year.
---
What is International Roadcheck?

International Roadcheck is a days-long inspection blitz by the CVSA in collaboration with the U.S. Federal Motor Carrier Safety Administration, the Canadian Council of Motor Transport Administrators, Transport Canada, and Mexico's Ministry of Infrastructure, Communications, and Transportation. This 72-hour event consists of high-visibility and high-volume commercial motor vehicle inspections, according to the CVSA.
International Roadcheck 2022 will take place from Tuesday, May 17 to Thursday, May 19, 2022 throughout North America.
During International Roadcheck, "commercial motor vehicle inspectors examine large trucks and motorcoaches and the driver's documentation and credentials," the CVSA website says. "…Inspectors identify critical out-of-service violations that if found, require the inspector to restrict the driver or vehicle from travel until those violations or conditions are addressed."
What will be the focus area for International Roadcheck 2022?
This year, the CVSA International Roadcheck blitz will focus on your fleet's wheel ends.
According to the CVSA, wheel-end components are routinely identified as a top-10 violation–historically accounting for nearly one-quarter of out-of-service violations during past International Roadchecks.
During wheel-end inspections, here's what inspectors will be checking for:
Cracks or unseated locking rings, studs, or clamps.
Bent, cracked, or broken rims on the inside and outside wheel rims.
Loose, broken, missing, or damaged wheel fasteners and elongated stud holes.
Cracks across spokes and in the web area or slippage in the clamp areas.
Lubricant leaks, missing caps, or plugs.
Inner wheel seal leaks.
Tire and valve stem leaks.
Proper inflation, cuts, and bulges on all tires, including the inside tire on a dual set.
Regrooved tires on the steering axle.
Treadwear and measure major tread groove depth.
Improper repairs, such as tire plugs.
Exposed fabric or cord.
Tire contact with any part of the vehicle.
Markings on the tire that would exclude its use on a steering axle.
Debris between the tires.
Tires touching one another or any part of the vehicle.
What happens if an inspector places my truck or driver out of service?
During an inspection blitz like International Raadcheck, it can become more common for trucks and drivers to be placed out of service. In fact, here are some recent International Roadcheck statistics for you.
In 2020, 10,676 vehicles and 3,072 drivers were placed out of service in the United States.
In 2021, 8,293 vehicles and 2,477 drivers were placed out of service in the U.S.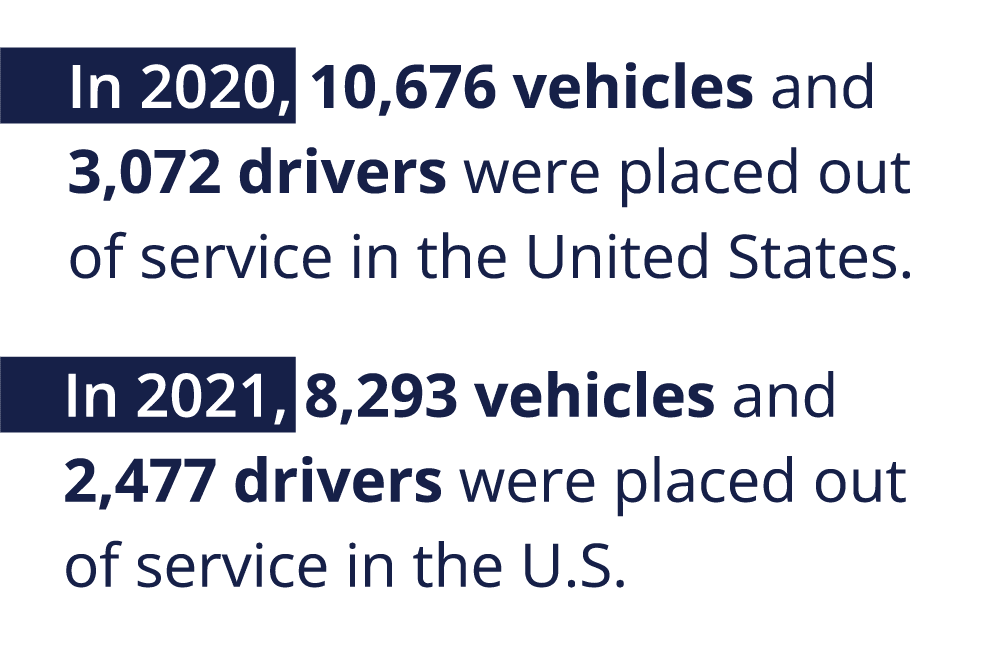 You know better than anyone that if your trucks aren't on the move, you're not making money.
So if an inspector places your truck and/or driver out of service, your business could lose out on thousands of dollars in revenue.
Let's do some quick math.
Your dispatcher booked a load for your driver that pays $3.19 per mile. At an average rate of 55 mph, your driver could be making $1,052.70 for 6 hours of driving.
But how much of that is lost if they're placed out of service?
If they drove for 2 hours before they were subject to an inspection–they would have only made $350.90 for driving that day.
And the worst part?
Your driver can't get back on the road until their truck issues have been dealt with.
At best, you get stuck paying for expensive "emergency" repairs to get your truck cleared ASAP, and at worst, your truck could be off of the road for days, if not weeks.
If your truck spends just 4 days at the shop–your business could lose over $4,000 in revenue. Now imagine how much more you could lose if you have to wait weeks for a repair.
So, to avoid losing out on thousands of dollars this year–make sure that your trucks are well-maintained before heading out on the road during International Roadcheck 2022.
What other violations should I be looking out for during International Roadcheck?
While the CVSA's focus area is crucial during the inspection blitz–you should also focus your driver's attention on hours of service (HOS) violations.
Why?
Because historically, HOS violations tend to be the leading cause of being placed out of service during International Roadcheck.
In 2020 and 2021, HOS violations ranked first for Out of Service Driver Violations:
HOS violations in 2020 made up 32.5% of Out of Service Driver Violations
HOS violations in 2021 made up 41.5% of Out of Service Driver Violations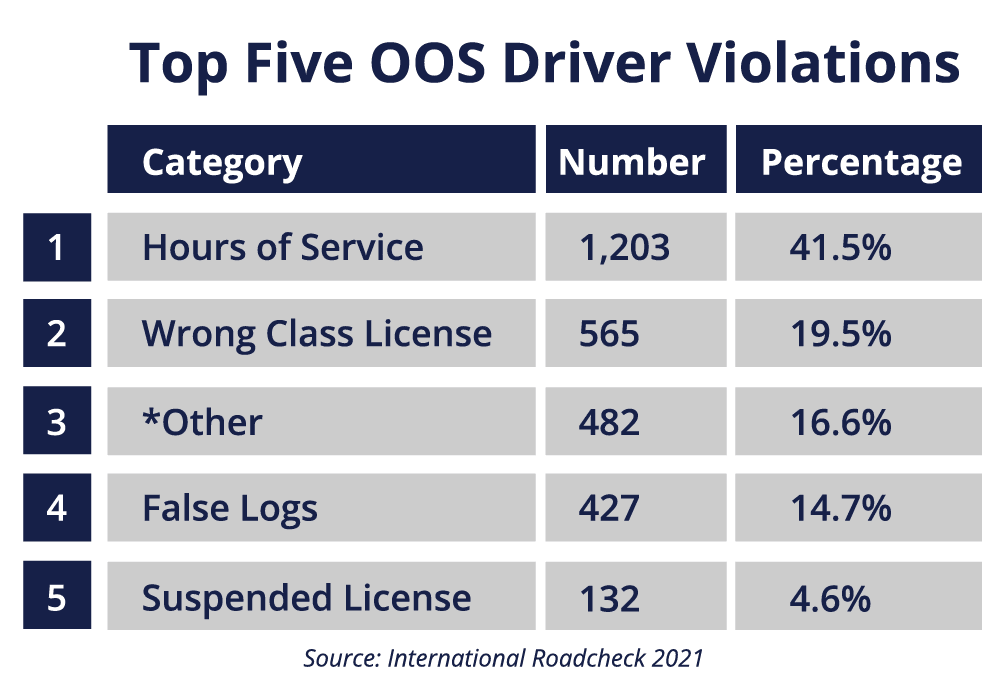 Here are other common violations that truckers get placed out of service for:
Other (moving violations, cell phone use, etc)
Wrong Class License
False Logs
Suspended License
Brake Systems
Tires
Lights
Brake Adjustment
Cargo Securement
---
What should I do to prepare my fleet for International Roadcheck 2022?
To prepare your fleet for International Roadcheck 2022, you should focus on ensuring that your trucks are well-maintained and in compliance with all relevant regulations.
In addition to making sure that your wheel ends are in good condition, you'll want to make sure your truckers are working within HOS regulations to avoid being placed out of service.
And the best way to do that?
Working with an ELD provider that helps you maximize your fleet's driving hours, legally, within FMCSA rules.
GPSTab is the best-kept secret in the trucking industry. Our no-contract ELD helps fleets like yours legally get more out of their HOS, unlike other ELDs.
How do we do it?
By helping use FMCSA regulations like Adverse Driving and Split-Sleeper to their full potential.
Stuck in unforeseen traffic caused by a wreck? Extend your driving and on-duty time by up to 2 hours with our Adverse Driving feature. All it takes is the click of a button.
Are you not needed at the shipper's dock for another 2 hours? Save your driving and on-duty time by using our Split-Sleeper feature.
Learn more about these features by watching the videos below:
No other ELD makes it this easy to drive more miles and make more money.
Want to learn more about GPSTab?
Fill out the form below to schedule a quick demo or try GPSTab for yourself by starting your 7-day free trial today.
Recent News and Articles