What is an ELD and how can it help your business?
Breaking down some of our most frequently asked questions concerning ELDs
August 26th, 2021

With new people entering the trucking industry every day, we thought it would be helpful to do a roundup of our most frequently asked questions.
We've compiled a comprehensive list of everything you need to know about ELDs including what they are, how they work, and how they can help your business save money.
What is an ELD in trucking?
ELD stands for Electronic Logging Device and refers to a device used to record hours of service for truckers.
These devices synchronize with a software solution, providing data including hours of service, truck diagnostics, dash camera integrations, and asset tracking. This software provides reports that can be used to help you navigate and pass your next DOT audit.
What does an ELD do?
An ELD is a system that helps drivers stay safe on the road. It helps drivers to work within their allotted number of hours of service. There are also flexible features that allow a driver to log real-life occurrences such as weather or traffic.
Because of this, ELDs are no longer just a legal requirement—-they can also be used to drive more miles and make more money on the road.
ELDs are great for individual truckers as well as fleets. ELDs will send an alert to the account administrator if hours of service are exceeded, this will allow other interested parties to communicate with the driver and get them safely off the road.
Are ELDs mandatory?
Yes, ELDs are mandatory for all over-the-road truckers who do not qualify for an exemption.
ELDs were mandated by the Federal Motor Carrier Safety Administration (FMCSA) on December 16, 2019. However, there are multiple ELD exemptions available for certain trucking operations.
Who is exempt from using ELDs?
ELD exemptions are rare but apply to certain circumstances including:
Drivers who operate under the short-haul exception (150-air miles)
Drivers of vehicles manufactured before 2008
Drivers who conduct drive-away-tow-away operations, where the vehicle that's driven is what's being delivered.
While the ELD itself is not legally required, exempt drivers must still record their hours of service using paper logs or have their employer keep records of work hours in the case of short-haul drivers. This brings us to our next question:
Can truckers still use paper logs?
Yes and no. Exempt truckers are still expected to log their hours on paper, but non-exempt truckers can also do so if they're dealing with an ELD malfunction.
While ELD providers are not required to distribute malfunction letters, a non-exempt trucker can request one from their ELD provider, allowing them to record their hours of service on paper for up to 8 days.
The process for receiving a malfunction letter is simple, just contact your ELD provider as soon as possible to let them know about the malfunction. The letter can then be used to let DOT officers know that your ELD is not operable in case of an inspection.
If a driver exceeds the 8-day threshold, however, they can be at risk of being placed out of service.
What trucks are ELD exempt?
Class 8 trucks manufactured before 2008 are exempt from ELD regulations. These trucks must follow the previous hours of service rules instead, requiring paper logs.
Do short-haul drivers need ELD?
Short-haul drivers do not require ELDs to record their hours of service. Short-haul drivers only need to record their on-duty time and don't require detailed logbooks as long as they drive within a 150-air mile radius, clock in and out at the same location, and do not drive more than 11 hours in a day.
What is the 150-air mile rule?
The 150-air mile exemption allows drivers with a CDL to drive without needing a detailed logbook for their hours of service as long as they meet the following conditions:
Drive within a 150-mile-radius of start point
Clock in and out at the same location at the start and end of their day
Do not drive more than 11 hours and are not on-duty for more than 14 hours
Additionally, air miles are measured by traveling over the air from one location to the other. This makes it so the most common beneficiaries of this exemption are local drivers, also known as short-haul, who usually stay within 150-air miles of their start points.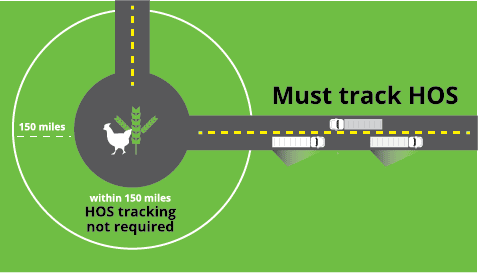 What is the Agricultural Exemption?
The Agricultural Exemption provides exceptions so that truckers do not need to track their hours of service as long as they're traveling within a 150 air-mile radius of the "source."
The "source" refers to the location of the commodity that you're transporting. With the source as the focal point of the 150 air-mile radius, truckers do not need to track their hours of service as long as they're within that radius. Once they pass the radius boundary, however, they must begin to log their hours of service.
What is Personal Conveyance?
Personal Conveyance is the movement of a CMV for personal use while off-duty. For example, you can use your truck while in Personal Conveyance to get some food or drop off your laundry at a dry cleaner.
Essentially, when you're not working and using your truck, you should enable Personal Conveyance to ensure you don't negatively affect your hours of service.
What happens if you unplug your ELD?
Unplugging your ELD will stop it from recording your hours of service. This could put you and your business at risk of receiving a violation, fines, and being placed out of service.
The system makes a notation when the ELD is offline, which can open the driver and company up to additional fines and violations.
How much does an ELD cost?
Drivers can expect to pay anywhere from $200-$1000 depending on the device and provider. Monthly subscriptions for an ELD service can also range from $10 to upwards of $50 a month per truck.
While some companies will lease an ELD with no upfront costs, we have found that clients tend to be hit with thousands of dollars in fees and paying more at the end of the lease when the equipment is not returned in brand new condition.
In our experience, the most cost-effective way to have an ELD is to buy it upfront at a reasonable price so that you are not hit with surprise fees that range in the thousands on the back end.
Overall the price may seem steep, especially for small trucking fleets.
But how much does this really cost compared to not being compliant? The FMCSA has some answers that might surprise you.
According to the DOT, "trucks equipped with ELDs have experienced a 53% lower driving-related hours of service violation rate in 2020 and a 49% lower non-driving-related hours of service violation rate."
The average fine for operating for more than 14 hours in a day is $7,322
The average fine for operating more than 60/70 hours in a 7/8 day span is $4,787
Failure to keep RODS can cost a maximum of $1,270 per day
If you're found to have knowingly falsfied your logs, you can face a penalty up to $12,695.
That doesn't even include the amount of money you and your business can lose from being placed out of service.
All in all, the money you can save by having an ELD is massive—making sure you don't suffer any penalties.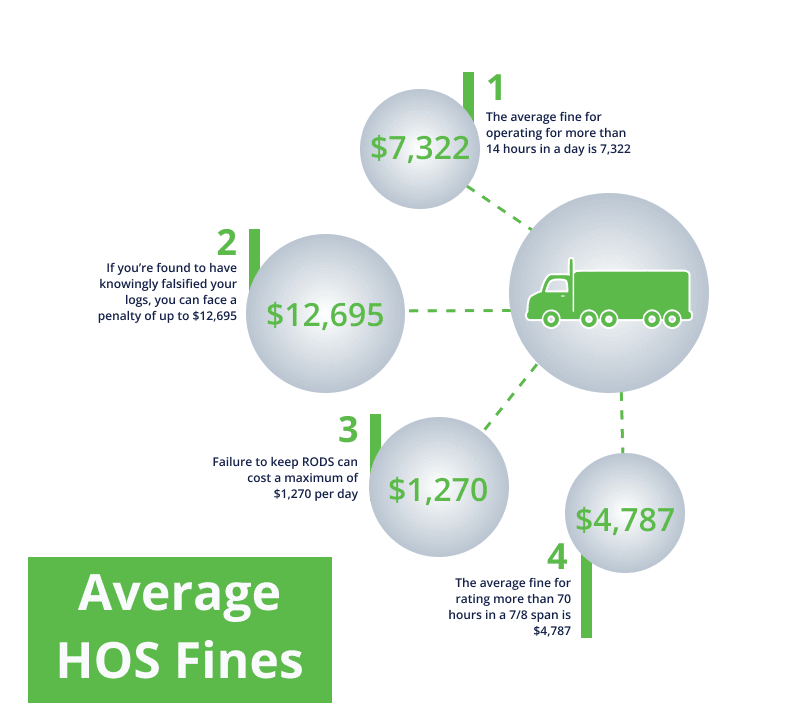 What are the repercussions of being caught falsifying logs?
As we mentioned previously, knowingly falsifying logs could cost your business upwards of $12,000.
Potentially losing your business as a whole is also a possibility. In February 2021 the FMCSA revoked a fleet owner's carrier authority after he falsified logs between January 2018 and May 2019 by using AOBRD editing features.
He also faced six months of home confinement, 50 hours of community service, a $1,000 fine, and a $100 special assessment fee.
What's the frequency of data transferred to FMCSA?
The FMCSA requires ELDs to transfer data every 7 days. The process can either happen automatically or manually by a driver during an inspection that requires them to transfer ELD data.
What's the frequency of compliance audits?
Compliance audits from the DOT do not follow a strict schedule—they can happen at any point.
Audits can occur after an accident, excessive violations, or declining CSA scores. It's important to be prepared for an audit at all times, as they can be sporadic in nature.
What kinds of movements do ELDs track?
ELDs track vehicle movements such as speed, driving habits, and vehicle ignition. Most ELDs will begin tracking data, including movement, when the vehicle begins to move over 5 mph.
Can I use my phone as an ELD?
Yes, most ELDs have mobile apps that you can use to track your hours of service.
Do owner-operators need ELDs?
Owner-operators who drive over-the-road require an ELD unless they qualify for an exemption.
Exemptions for owner-operators remain the same, meaning they don't need an ELD if they're driving within a 150-mile radius, have a truck manufactured before 2008, or they're delivering the vehicle they're driving.
What is the best ELD for owner-operators?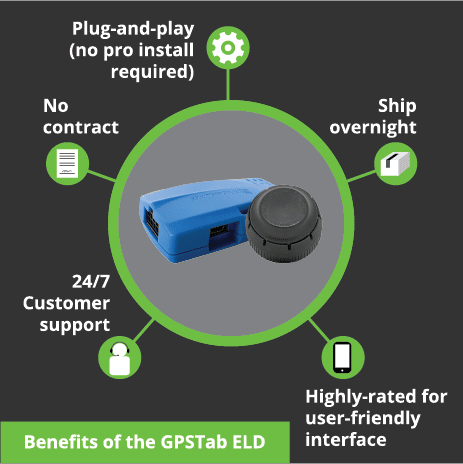 Owner-operators who work on their own or have a small fleet benefit from a system that prioritizes customer service, eliminates contracts, and has hardware that keeps you on the road with no professional installation required.
We know how important it is for you and your business to stay on the road, that's why GPSTab ELD was designed to help you drive more miles and make more money.
Our plug-and-play ELDs require absolutely no professional installation and can be installed by drivers in just minutes. And with our customer support team available 24/7, you'll always have someone there to assist you.
Drive with us risk-free for 7 days, schedule a quick demo in the form below.
Recent News and Articles