What are dash cameras & how can they improve fleet safety?
If you're still undecided about whether or not to buy a dash camera, here's why they can be an excellent resource for your trucking business.
September 1st, 2021

When an incident involving your fleet occurs, don't you wish you could see what happened for yourself?
Dash camera systems offer an easy way to monitor your assets witahout being there. They're also a great safety tool for your drivers and business in case of an accident, recording the incident and helping to potentially avoid a liability.
What is a dash camera system and how does it work?
A dash camera system is a surveillance system that can be mounted on your dashboard or windshield to record anything that happens while on the road.
The majority of recording systems are dual-facing, meaning they can record the road and driver. Because the system is connected to constant power, it will remain on standby and begin to record once it senses movement.
Cameras can also be added throughout the outside of a semi-truck, to make sure all angles are covered. Footage can be stored on an SD card or on the cloud, making it easily accessible when necessary.
What is the purpose of dash cameras?
Dash cameras help improve driver safety scores, which can be a support for improving driver behavior. This improved safety can yield lower insurance and crash rates.
While the National Safety Council found that there'd been a 43% increase in fatal truck crashes since 2010, research shows more often than not these are not the driver's fault.
The American Trucking Associations' research found that car drivers are principally at fault for 70-75% of all fatal crashes involving commercial motor vehicles.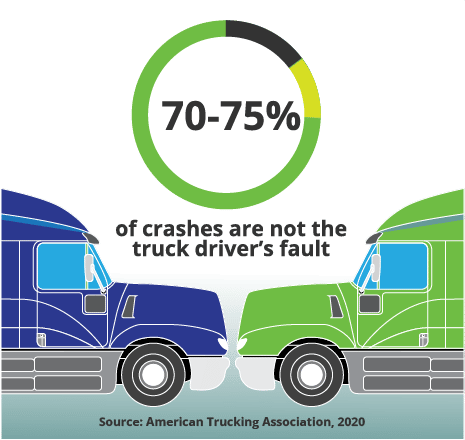 Limit liability in the case of an accident
Dash camera systems help ensure that when an accident occurs, the responsible party is properly identified. Video footage makes it easier to assign fault, helping your business avoid costly liabilities.
The cost of being unprotected can be hefty, as verdicts in the millions have become more common.
From 2010 to 2018, the average dollar amount awarded by a jury skyrocketed from $2.3 million to just under $22.3 million–nearly a 1000% increase.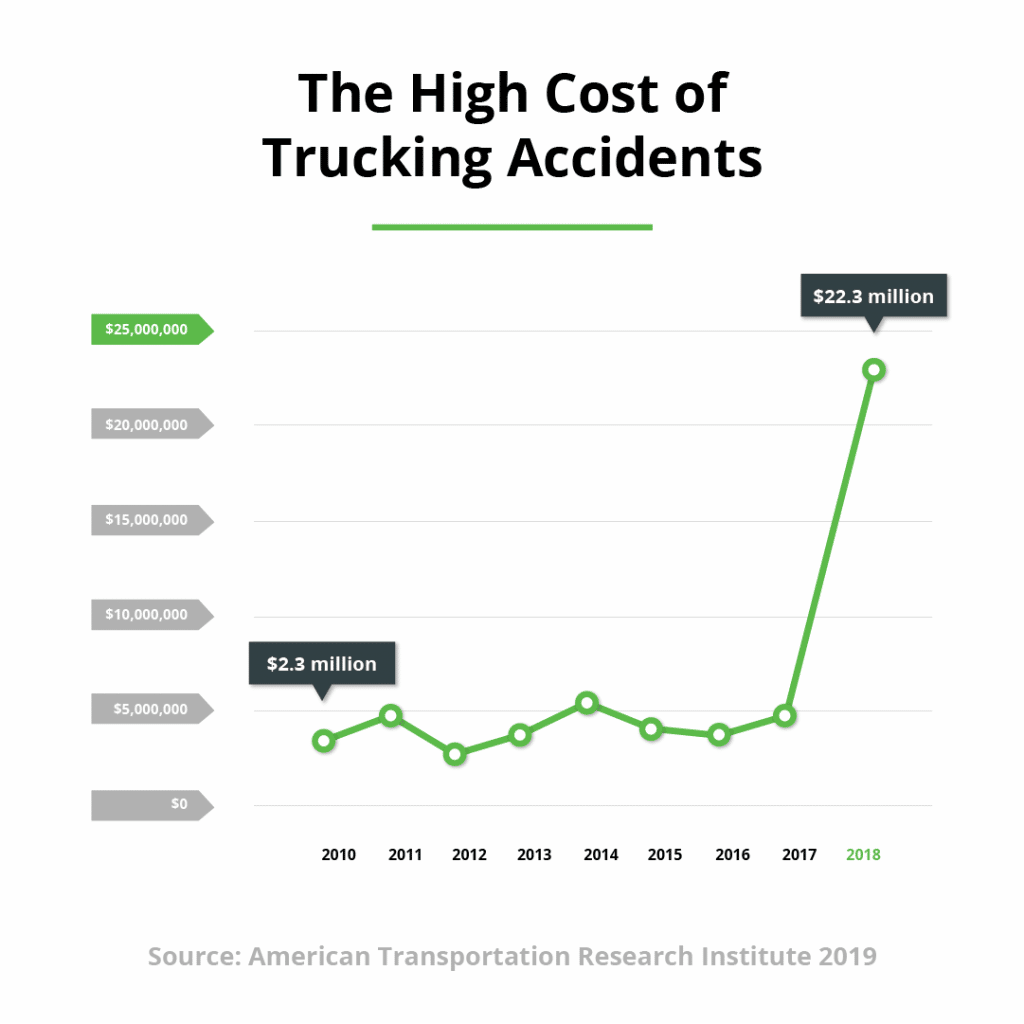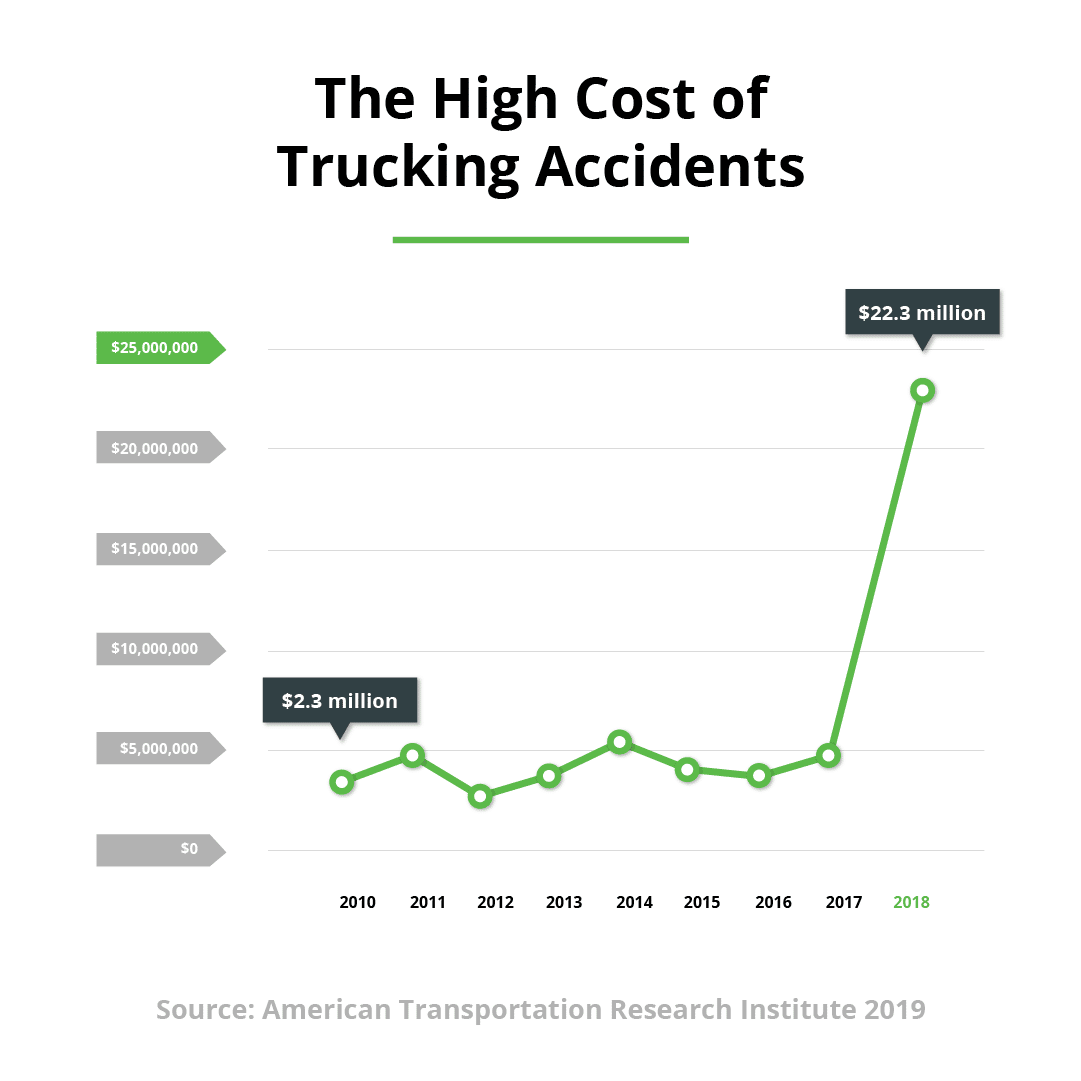 Dash cameras can be a pivotal piece when defending yourself and your business.
With a dash camera system strategically placed throughout your truck, you can help prove that your driver was not at fault if an incident occurs.
Can dash cameras help improve CSA scores?
Yes, if you have a dash camera system installed in your trucks, you can use them to help improve your CSA scores.
CSA scores are affected by two main factors: roadside inspections and crash report data.
When a driver is involved in an accident, they are at risk of receiving CSA points, which are based on the severity of the incident. This not only affects the driver–the points are also calculated into your business' CSA score.
By having a dash camera system installed in a driver's truck, you can see for yourself whether or not they were at fault. If you don't believe they were at fault, you can then have the crash reviewed by the Federal Motor Carrier Safety Administration through their Crash Preventability Program.
The FMCSA reviews eligible crashes, categorizing them as either preventable or not preventable. If a crash is deemed to be not preventable, CSA scores remain unaffected.
Carriers are required to submit the police accident report, along with any supporting documents, photos, or videos.
Carriers can get a crash reviewed if their Commercial Motor Vehicle was:
Struck in the rear
Struck by a driver going the wrong direction or making an illegal turn
Struck while parked or legally stopped
Struck by a vehicle that failed to stop
Struck by a driver under the influence
Struck by a driver having medical issues, falling asleep, or distracted driving
Struck by cargo/equipment/debris or by infrastructure failure
Struck by an animal
Struck by an individual committing or attempting to commit suicide
Involved in a crash that was rare or unusual
The FMCSA held a Crash Preventability Demonstration Program, where they looked at cases that occurred between Aug. 1, 2017, and Sept. 30, 2019.
In this Demonstration Program, they found the following:
About 93% of crashes were not preventable
About 2% of crashes were preventable
About 6% were left undecided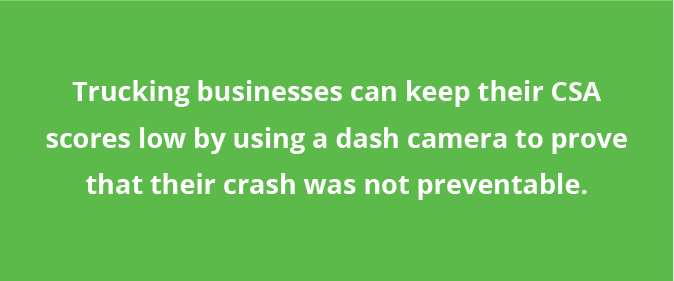 Trucking businesses can keep their CSA scores low by using a dash camera to prove that their crash was not preventable.
Research shows this can happen up to 93% of the time.
Keeping your CSA scores low allows you to continue to book the best freight from top-rated brokers.
Are truckers required to have dash cameras?
Truckers are not required to have dash cameras, but they can help exonerate them in the event of an accident.
If you're a company driver or leased under a company, you may be required to equip your vehicle with a dash camera.
Do trucks have dash cameras?
While most truck manufacturers do not install cameras as a part of their standard offerings, many fleet operators provide them for truckers.
Do dash cameras require contracts?
To get the most out of your dash camera system, you'll want to buy equipment that can be integrated with other transportation software, which may require a monthly subscription or contract.
Integrating dash camera systems with ELDs has become commonplace in the trucking industry–allowing you to have everything you need in one place. You can either choose to subscribe to an ELD on a monthly basis or commit to a contract of varying lengths.
By equipping dash cameras that integrate with an ELD, you can have additional data that can be used to prove a driver's innocence such as location data and speed. You can also store and view footage using your ELD admin portal.
Are dash cams easy to install?
The difficulty of installation varies. Some are difficult to install, requiring professional installation, while others can be easily installed in a few steps by a driver.
What is the best dash camera for trucks?
The best dash camera for your fleet will have safety features to protect you in litigation, expert, responsive customer service, and a simple easy-to-use interface.
Here are some essential features your camera will need:
Road-facing camera
Driver-facing camera
Livestreaming
Adjustable wide-angle lense
Manual recording
Road event alerts (Distracted driving, unsafe driving, and accidents)
Audio alerts
Quick installation
Additionally, having a dash camera system that integrates well with your ELD can prove to be an effective way to safeguard your assets while on the road.
As we mentioned earlier, ELD data such as location and speed can help contextualize footage, offering greater insight into what was happening before an accident occurred.
About GPSTab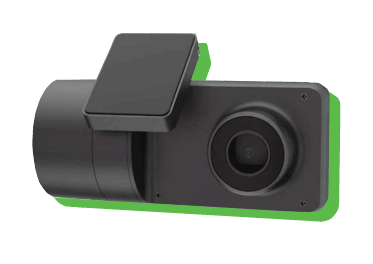 We know how difficult it can be to keep your fleet safe and CSA scores low. This is why we designed GPSTab to be a hub for all your safety needs.
Our GPSTab Dash Cameras and ELD are designed to work together seamlessly, making it easy for you to manage your fleet's safety and drive more miles on the road.
Dual-facing camera allows you to view the road and driver in 1080p
Viewing footage is a breeze, just log in to your GPSTab Admin Portal to view playback or live video
Get alerts if an accident occurs, allowing you to react swiftly
Detects distracted & unsafe driving, triggering alerts and video recordings
Provides audio feedback to help drivers improve driving
No professional installation is needed, hardware can be installed in 3 easy steps
See what our dash camera system can do for you by signing up for a quick demo below!
Recent News and Articles